Dr. Kirby Collins
Chiropractor

Special Interests;
Sports Chiropractic
Applied Kinesiology (AK)
Chiropractic Neuro-Developmental Paediatrics
Sacro-occipital Technique (SOT)
Optimal Maternal Positioning (OPM)
Selective Functional Movement Assessment (SFMA)
Dry Needling
Dr. Kirby's Story
Originally hailing from Portland on the South West coast of Victoria, Dr. Kirby joined Geelong Chiropractic and brought with her 10 years' professional experience as a Melbourne-based Family and Sports Chiropractor.
Sports Chiropractic is one of Dr. Kirby's great passions, and her dedication to helping athletes reach their goals through expert Chiropractic care and applied functional movement techniques is second to none. As a national and international Crossfit athlete, and more recently an Olympic weightlifting competitor, Dr. Kirby has first-hand knowledge of how vital it is to give the body ongoing care and treatment to perform at a peak level.
Dr. Kirby's devotion to working with pregnant mums and children is where her expertise shine even brighter. Having completed an extra two-year post graduate diplomate in Chiropractic Neuro-Developmental Paediatrics, her knowledge in this field brings a new level of care to Geelong families.
Dr. Kirby is a powerhouse of both strength and knowledge, bringing a holistic approach to the health and vitality of her patients, and stands as an invaluable member of the Geelong Chiropractic team.
Myotherapist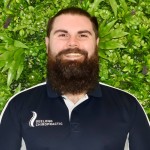 Special Interests
Remedial massage
Injury management
Sports rehabilitation
Sam's Story
Proudly Geelong born and bred, Sam knew he wanted to be a Health Practitioner from an early age. Sam's childhood and teenage years were jam packed with two of his favourite things – sports and music. Demonstrating his skills both in the field and on the stage, Sam spent a big portion of his youth keeping active as well as playing gigs with bands around Geelong and Melbourne (and he's still known to belt out a tune or two!)
As athletes tend to be no strangers to injury, Sam suffered his fair share while playing sport which saw him undergo multiple Physiotherapy/Myotherapy rehabilitations as well as some major surgeries. These experiences and the respect and gratitude to the practitioners that aided his recovery are the driving force for his dedication to the treatment of his patients, and keeping them fit, healthy, and moving.
Once Sam completed his Diploma of Remedial Massage and Advanced Diploma of Myotherapy, he wasted no time in launching his own local small business in Geelong as well as establishing a career as a Trainer for Injury Management at his local football club. Sam's growing reputation in his field made him a valued addition to the Geelong Chiropractic team.
Sam is an avid beard enthusiast, sports fan, and music-lover at heart. Outside the clinic, you can catch him spending time with his partner and animals, catching up with friends, attending local sports games, and going to as many gigs as possible.
Tori Hardy
Practice Manager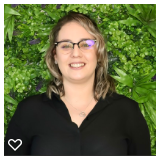 Tori has grown up and lived in Geelong her entire life, taking walks along the stunning beaches, and always managing time for a good shopping spree at local stores. The notorious travel bug bit her early and she spent five months backpacking around Europe, absorbing different cultures and meeting incredible people along the way.
Tori has always been drawn to the health industry with a keen curiosity and passion for learning about how our bodies function and can take a natural approach to healing. This thirst for knowledge is currently seeing her undertake a Diploma of Health and Wellbeing.
As a Chiropractic Assistant, Tori spins a lot of very important plates at Geelong Chiropractic, from streamlining admin processes and increasing efficiency, to providing support and clarity to both our team and our clients.
Outside the clinic, you can catch Tori travelling, spending time with her partner and fur babies, or showing you her cool double-jointed pinkie finger.
Emotional Support Dog : Luna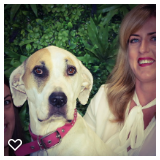 Luna is a rescue great dane cross and is the baby of Dr Hannah. You will often see her in the back rehab room chilling out and giving moral support to clients as they correct their various movement issues!